I 2009 begyndte biografer verden over, at skifte til digitale projektorer. Som med meget andet digitalisering, var det også for at spare personale og de første der røg var operatørerne. Men de digitale projekterer kræver faktisk også fagligt personale, det har man bare glemt. Blandt andet skal pærene i projektorerne skiftes jævnligt, og det er svært og derfor lader biograferne dem bare sidde til de brænder helt ud, hvilket giver dårlig opløsning, dårligere end på dit tv, derhjemme. Det skriver Vulture om.
FRA FÆLLES TIL ALENE
Meget tyder da også på, at flere af os vælger hjemmebiografen, ikke mindst de instruktører, der laver filmene, der ofte screener deres værker i gigantiske hjemmebiografer og glemmer, at situationen er anderledes for publikum. På grund af manglende fagligt personale, operatører, opstår der vanvittige fejl i biograferne: Snavs på linserne og manglende udskiftning af 3d objektiver, når man viser film i 2d er en af konsekvenserne. Men den værste er naturligvis hvis det ender med, at vi dropper den fælles oplevelse i biograferne og alle sammen ender foran TV-skærmen derhjemme.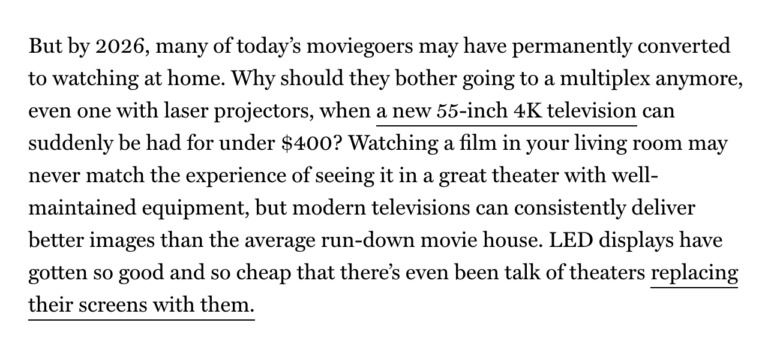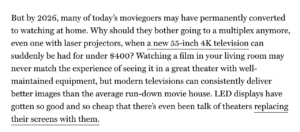 'But the picture problems predated COVID-19. Many can be traced to 2009, when theaters swapped their film projectors for digital ones, made primarily by Sony, to show the original Avatar. Studios were excited about the switch because it meant they could save money by distributing movies over the internet instead of mailing around heavy film prints. Theater owners were excited because digital projectors could be programmed to run on their own without human projectionists to start them up and switch reels.
Those projectionists, though, were highly skilled engineers and troubleshooters. Now that multiplexes use automated projection, problems fall to house managers, who, in this age of austerity, may be the same overworked employees ripping tickets and selling popcorn. If an error is serious or demands more than a wiped lens or system reboot, it might have to wait a couple weeks for a visit from a technician — or even longer if nobody complains.'
Læs hele historien her: https://www.vulture.com/2023/03/movie-theater-projector-amc-regal.html
https://analogist.dk/wp-content/uploads/2023/03/Skaermbillede-2023-03-14-kl.-09.10.44.png
564
1280
Anders Kjærulff
https://analogist.dk/wp-content/uploads/2018/08/logo_humanist.png
Anders Kjærulff
2023-03-14 08:12:21
2023-03-14 09:53:50
Digitale Biografer graver deres egen grav?